WordPress Themes – Which Theme Is Right For Your Business?
Are you looking for the best WordPress Themes for your business? Having a Stunning WordPress Theme that is Responsive, Professional, and Fast is the key to growing your business online. In this article, we have put forward some tips to find the best WordPress Themes for your website and make the visitors feel impressed with the responsiveness and design of your website. You would find a lot of Free and nulled WordPress Themes on the internet, they are good for stationary websites with no user traffic. But if your business depends on your website then you better go for a Premium WordPress Themes. Premium WordPress Themes are secured and have better support whereas there is no support and security in Free and nulled WordPress Themes. They are designed with the sole purpose of making money from ad traffic from an anonymous developer. Also Read: How to make your WordPress Website Secure?
What to look for when finding a WordPress Themes for Business?
Choosing a perfect WordPress Theme for Business is very crucial and will take your business a long way and help it make an established online business. As they say, 'First Impression is the Last Impression' applies in the digital world as well. The following are some tips for choosing the Best WordPress Themes for Business:
Choose a Theme According to your Niche: Make sure the Theme you choose fits best according to the niche.

Example: If the website is about Fashion Products choose a Theme that focuses on Product Images and branding with Image Carousels, If your business is about selling services search for themes that look professional and modern.

It must be Fully Responsive: Any theme you choose based on your requirements and business needs but make sure it is fully responsive.

Responsive WordPress Themes allow the website contents to be viewed without any fuss.
In Responsive Themes, the website layout adjusts to the user's screen size for a seamless viewing experience.

The Theme must be optimized for SEO: Search Engine Optimization is very important for any website to rank on the Search Engine Results.

If the theme is poorly coded then the website will struggle to make its mark in the search results whenever a user tries to search for products related to your business.
Most Modern Premium WordPress Themes are SEO optimized.

Browser Compatibility and Plugin Integrations: While choosing a Theme for your WordPress store you should make sure the theme you choose does support the latest browsers like Chrome, Firefox, Internet Explorer, Safari, Edge, etc.

Also, the theme should be tested for plugin compatibility with many widely-used plugins.
Theme markets like ThemeForest follow a rigorous testing and compatibility procedures before listing any theme for sale.
You are presented with various properties like the Last Update, Compatible Browsers, Compatible Plugins, Software version, Files Included, Layout, etc. about any theme while purchasing.

Customer Support: After you purchase a new Professional WordPress Theme, sometimes you find yourself in an unexpected technical blunder.

This is where the customer support kicks in. You can take the help of the experts to find your way out and fix the issue for free.
It is good to have active support handy for running your business smoothly.
Also Read: Which is the Best Questionnaire Plugin for WordPress Websites?
Best Premium WordPress Themes for Business
Oshine – Creative WordPress Theme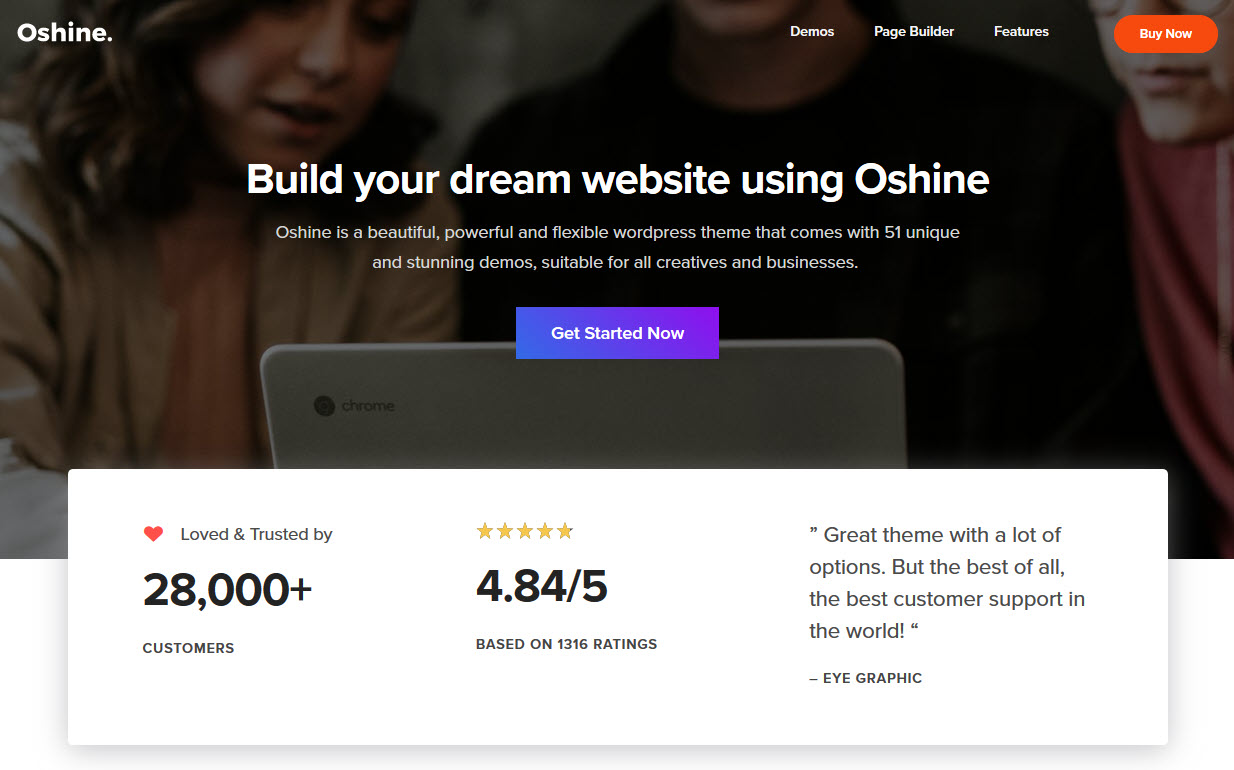 Oshine is the best Premium WordPress Theme for business purposes. It is a Modern, Responsive, and Fast Theme that comes with 50+ Demos and much more features. If you are a Business, Agency, Photographer, Portfolio, Freelancer, Architect, or Fashion then you must check out the pre-built demos that you can use for your website. If you like to build your own custom design from scratch then with Oshine you can surely do that, thanks to the Tatsu – Page Builder that comes bundled with Oshine Theme. It's got a Text Editor for different typography options, 50+ Styling Modules, Keyboard Shortcuts, and more. You can easily build a Single Page website with Oshine. It makes beautiful websites with great transition effects and animations. You also get better typography control with the integration of tools like TypeHub and ColorHub for eye-pleasing typography and punchy colors. Also Read: This is how to Prevent XSS Attack on WordPress Websites
Benefits of Using Oshine WordPress Theme
Brilliant 24×7 Customer Support that is praised by its users for Quick Responses.
50+ Demo Websites crafted with Oshine WordPress Theme for easy selection
By default Comes with the Tatsu Page Bulder with easy to use drag and drop modules
Fully Responsive and Retina Ready Design
GDPR Compliant Themes for better accessibility
Superior Performance that leads to high ranking pages and boosts SEO
Unlimited Possible Combinations with intelligent features
Easy WooCommerce Integration for Ecommerce Store
Stunning Sliders, Pleasing Carousels, Classy Design, Password Protected Galleries that is Best Suited for Photographers and Portfolios
Colorhub and Typehub Integration for unique and complete experience
Best-One Page Website Builder that lets you create a single-page website
Easy One Click Import for Quick Setup
Video Backgrounds for websites now possible with Oshine WordPress Theme
WPML Compatible and Theme can easily be translated for Multilingual Websites
Check out the Theme's Full Features | Buy Oshine Theme
Final Thoughts
Above were some of the Tips for choosing the Best responsive WordPress themes for your Website. WordPress Themes play an important role in deciding the worth of your website. A website with a Premium WordPress Theme with a good amount of features and responsive design will be loved by the visitors and chances are that they will spend more time discovering the website's content. So, whichever Theme you go for make sure it is Responsive, Modern, and Premium for better user response with increased sales.